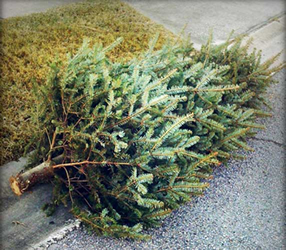 Easy Christmas Tree Recycling
>The Seattle Times: Online. In "Home and Garden" section.
There are several ways to dispose of your tree, depending on where you live. Keep in mind that most compost and mulch programs require that the trees be free of flocking, decorations and stands. Here are a few Christmas tree disposal options.
Seattle residents can have trees picked up with regular yard waste, but trees must be cut into sections 6 feet long or less, and branches trimmed to less than 4 feet. Bundle the sections with twine or string. Or you can drop off up to three trees per vehicle for free at Seattle Public Utilities' North and South Recycling and Disposal stations through Jan. 14. Trees should be trimmed to 8 feet or shorter with trunks no more than 4 inches in diameter. The stations at 1350 N. 34th St. and 8105 Fifth Ave. S. are open 8 a.m.-5:30 p.m. but will be closed New Year's Day. For more information, go to www.seattle.gov/util/services or call 206-684-8400.
Federal Way will collect trees for free from single-family homes Jan. 8-12 during regular garbage collection day. The city requires you to cut trees that are taller than 8 feet in half. Trees with flocking, tinsel or other decorations on them will be collected as garbage for a fee.
King County recommends putting out trees with regular yard waste or taking them to a tree-recycling event. For information on tree-recycling events, go to www.metrokc.gov/dnrp/swd/index.asp and click on "tree-cycling options."
Pierce County also accepts Christmas trees in its yard-waste program. For details, see www.co.pierce.wa.us and search for "Christmas tree recycling," or call 253-798-2179.
In Snohomish County, the policy for curbside tree pickup varies depending on the commercial hauler. Some information can be found at www1.co.snohomish.wa.us/Departments/Public_Works(click on "solid waste").
Call the Scouts: Some Boy Scout troops collect trees for recycling. Go to www.scouting.org and click on "local councils" to find out whether a troop near you is accepting trees.
Other options: Use part or all of the tree in your own landscape. Cut branches can be placed over or around tender plants as protection from winter storms (just don't forget to remove the boughs when the weather warms up). The tree also could be chipped and used as mulch. For more ideas, go to www.organicgardening.com.