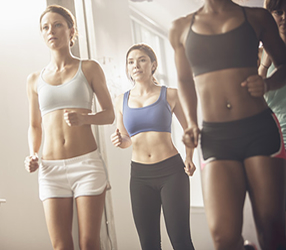 Trim Belly Fat
Source: www.self.com
A new study recently published in the Journal of the American Heart Association has given us another solid reason to support one of our favorite snacks.
The wholesome treat? Almonds.
During the study two groups of participants who all had high LDL (bad cholesterol) levels each followed a healthy diet for 12 weeks. During the first six weeks, one group enjoyed a 1.5-ounce portion of almonds for a snack, while the other group ate a carbohydrate-rich muffin for a snack. Aside from the snack, the two groups had the same diet. The groups switched snacks for the second six weeks but again otherwise followed the same diet.
Researchers found that when the two groups snacked on the almonds rather than the muffins, they reduced both their LDL and total cholesterol levels. Plus, eating the almonds raised their HDL (good) cholesterol levels, while eating the muffin decreased HDL levels.
What's more is that even though overall body weight did not change when participants were snacking on almonds versus muffins, their belly fat and waist circumference went down.
And get this: both the muffin and the portion of almonds contained nearly the same number of calories (273 and 253, respectively) and both diets had the same overall number of calories. This evidence shows strong support for the argument that it's the quality of calories that make for a healthy diet, not just quantity. The fact that almonds are rich in protein, fiber, and vitamin E —nutrients muffins score much lower in—most likely played a role in the results of this study. So next time you reach for a snack, think: nutrient-rich!