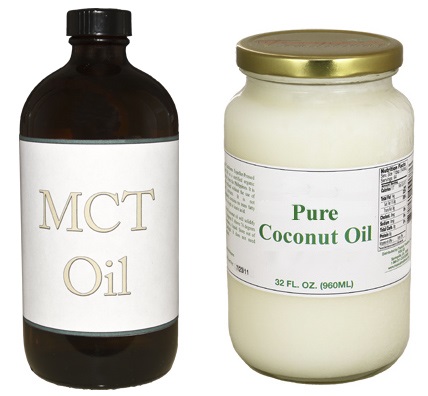 MCT vs. Coconut Oil
"MCT vs. Coconut Oil: The Truth Exposed" by Brian Shilhavy, Health Impact News
There is a lot of misinformation on the Internet regarding the differences between MCT oil and coconut oil. So let's clearly define what each product is and how they differ. Once we have this proper understanding, the myths regarding MCT oil that are being propagated will become very obvious.
What are MCTs?
Before we can begin our comparison of MCT oil and coconut oil, the first thing we have to do is define "MCT." MCTs stands for medium chain triglycerides. Another term for "triglycerides" is fatty acids. So another way of referring to MCTs is MCFA (medium chain fatty acids).
"Medium" references the chain length of the fatty acids. Oils can contain short chain, medium chain, or long chain fatty acids. Most oils are a combination of all three types.
Medium chain fatty acids contain between 6 and 12 carbon chains [1]. They are:
C6 – Caproic Acid
C8 – Caprylic Acid
C10 – Capric Acid
C12 – Lauric Acid
These medium chain fatty acids are known to have tremendous health benefits.
C6 through C10, although found in coconut oil, are more predominant in other places in nature, such as goat's milk. This is reflected in their names, taken from "capra," which means "goat."
The most predominant MCT found in coconut oil, however, is lauric acid. Coconut oil is about 50% lauric acid, making it nature's richest source of lauric acid.
While all the MCTs have known health benefits, lauric acid is the most well-known of the four. Lauric acid is prized around the world as a powerful antimicrobial agent, used in both food preservation as well as in drugs and nutraceuticals.
A search on the popular International Trading website Alibaba.com, for example, will show the following results when searching for each particular fatty acid:
Lauric acid – 1,861 Products from 194 Suppliers
Caprylic Acid – 451 Products from 66 Suppliers
Caproic acid – 393 Products from 69 Suppliers
Capric Acid – 206 Products from 56 Suppliers
Lauric acid products total more than the three capra MCT fatty acid products combined.
MCT Oil is Manufactured – Coconut Oil is Natural
Coconut oil in nature contains all four MCTs. In addition, it contains a small percentage of longer chain fatty acids.
MCT oil, on the other hand, is not an oil found in nature, but is manufactured by machine to separate out the medium chain fatty acids from the rest of the oil. The fatty acids are extracted through an industrial process of "fractionation".
The logic is that since MCTs are healthy, the more the better. Therefore, it is a popular belief that MCT oil is healthier than coconut oil. But is this true?
What is MCT Oil?
Where the logic fails in comparing MCT oil to coconut oil, is in the assumption that all four MCTs are present in MCT oil, and only the longer chain fatty acids from coconut oil are removed. This assumption is false.
MCT oils generally contain only the capra fatty acids. Lauric acid is either missing, or present in minuscule amounts. Therefore, to assume that MCT oil is a fractionation of coconut oil, where the longer chain fatty acids have been removed, leaving all of the MCTs from coconut oil, is false. Lauric acid is the star component in coconut oil, but missing in MCT oil. If MCT oil was the fractionation of all of the MCTs in coconut oil, it would be about 80% lauric acid. But it is not. It is zero percent lauric acid.
This is not surprising if you think about it. Lauric acid is the most valuable component of coconut oil, and as we saw above, the most actively traded MCT fatty acid in the world market.
So what does one do with the remaining capra MCTs after removing the valuable lauric acid? Market it as MCT oil of course!
Is MCT Oil better than Coconut Oil?
No, of course not. How can a product that has the most famous and most dominant fatty acid removed from the original product be considered "better"?
Lauric acid is unique to coconut oil, comprising about 50% of its fatty acids. Coconut oil is nature's richest source of lauric acid. The next highest source is human breast milk, at about 6 to 10%. So if you want lauric acid, coconut oil is the place to get it.
If, however, you want the capra medium chain fatty acids, you have many more alternatives, including goat's milk and other animals' milk.
The capra medium chain fatty acids have their own unique characteristics and benefits. But to refer to them as "better" than coconut oil is short-sighted. They are not better – just different.
Due to the recent rise in popularity of coconut oil, MCT oil has even been marketed as "liquid coconut oil" now. When lauric acid has been removed, the remaining MCTs stay liquid at much lower temperatures.
MCT oil is not true coconut oil, however, since it contains little or no lauric acid. One should not expect the same benefits from cooking with MCT oil (which traditionally has been a supplement or skin care ingredient, and only recently has been marketed as a cooking oil), as with coconut oil. (For more info see: Is Liquid Coconut Oil that stays Liquid in Your Refrigerator Real Coconut Oil?)
So while we are not saying that MCT oil is "bad," the hype saying it is "better" than coconut oil just does not reflect the facts. It suggests that people making such statements are falling for marketing claims, without really investigating the true nature of MCT oil.
References
1. Know Your Fats, by Mary Enig, Ph.D, Bethesda Press. p. 259
– See more at: https://healthimpactnews.com/2014/mct-oil-vs-coconut-oil-the-truth-exposed/#sthash.StOn4jbj.dpuf